Men's Health Supports New Sport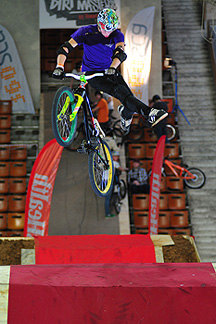 At the Fifth Bicycle Exhibition-Show Velo Park 2009 conducted in Moscow from February 20 to 22, Men's Health magazine held Men's Health Dirt Masters, a unique slopestyle competition for BMX and mountain bikes.
For three days, an unbroken chain of mountain bike and BMX riders lined up wheel to wheel across the bleachers of the CSKA arena, waiting to speed onto the unique course made for the Men's Health Dirt Masters competition. The course stretched 60 meters in length and included two 3-meter jumps and ended with a 3-meter quarter.
The race set up in the arena made an impression not only on the Velo Park audience, but on the participants themselves. Although 142 riders registered for the contest, not all chose to compete on the course. After the qualifying round on the first day, 15 riders entered the semi-final, of which nine competed in the finals on the last day.
The prizes and honors went to winners Kirill Cherkashenko (mountain bike) and Anton Sidorov (BMX). They received gifts from corporate sponsors Animal and Nike. However, for the main cash prize they had to compete between themselves. Cherkashenko and Sidorov gave it their best, and decided to split the prize money 50-50.
The Men's Health Dirt Masters competition was organized by the 360SCA agency for sport communication with the support of Velo Park 2009.