Guide to Cyprus from Homes Overseas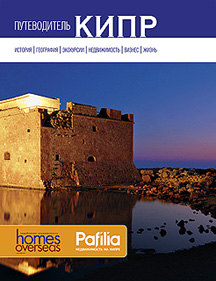 Homes Overseas magazine and a leading Cyprian developer, Pafilia Property Developers, announce a joint project: Guidebook to Cyprus. The guidebook contains the most important information about the country, its economy and culture, an overview of the Cyprus real estate market as well as everything a person should know when buying real estate as a personal residence, investment or for vacations.
The primeval natural beauty of Cyprus, carnivals and festivals in lively Limasol, golf courses in famous Paphos, calm and quiet in the "toylike" city of Polis, pink flamingos in picturesque Larnaca, colorful national dishes – all of this and more can be found in the pocket-size guidebook to Cyprus. Readers will take special interest in the section offering advice on real estate purchases in Cyprus given by professionals from Pafilia Property Developers and Homes Overseas.