In New Zealand with National Geographic Russia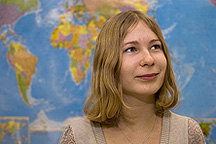 A National Geographic Russia reader and Russian student, Alisa Baranskaya, will join the team of a famous explorer. Baranskaya is one of only eight researchers from around the world who were selected to participate in the New Zealand leg of an expedition led by famous explorer Mike Horn.
In 2008, National Geographic Russia published an interview with the explorer in which he told of his project - the four-year Pangaea expedition. Young researchers will participate at various stages along the journey. Each was specially selected by Mike Horn based on numerous factors, including the results of physical and psychological testing. Among the winners in January 2009 was the 20-year-old Russian, Alisa Baranskaya.
Alisa is a student of the Geography Department at Moscow State University and a faithful reader of National Geographic Russia. Learning of the expedition from the magazine, she rushed to send in her application, and was soon chosen for the qualifying round.
Alisa and other young researchers will join Mike Horn for the leg of the project called "The Fjords of the Southern Island of New Zealand" that will start at the end of April. Onboard the Pangaea yacht, they will research the salinity, temperature and bio-diversity of the water and observe groups of dolphins. They will then disembark and set off by land through the bush to research the culture and customs of the Maori people.
The results of that part of the expedition will be added to research on the culture, climate, geography and biodiversity of New Zealand conducted by Dr. Rosvit Stoltz of Munich University.
National Geographic Russia will inform its readers of Alisa Baranskaya's travels as part of Mike Horn's team, and will also inform them of opportunities for participating in qualifying rounds for upcoming stages of the expedition.