Homes Overseas at Domexpo Exhibition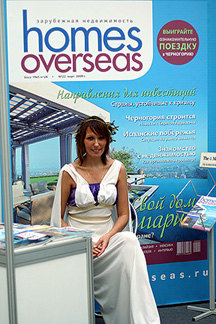 Homes Overseas magazine took part in the most recent Domexpo exhibition, held February 26 to March 1 at Gostiniy Dvor. This spring the main Russian real estate exhibitions were again combined – the Russian and international expositions were held at a single venue.
On display at Domexpo were the most interesting properties on the market, including those in such popular countries as Bulgaria, Spain, Montenegro and Cyprus, as well as in exotic countries. Although the exhibition was smaller than usual – which is not unusual considering the situation in the world – still many companies dealing in real estate overseas found a way to impress visitors with large colorful stands.
Media representatives gave special attention to the Homes Overseas stand. That is not surprising, because the magazine prepared an unusual entertainment for its guests – visitors had a chance to find out which home overseas the cards had in store for them. A Greek goddess and seer laid out fortune-telling cards made especially for the event, and participants would pull from the deck their "home of fortune." Visitors could also purchase current issues and back issues of Homes Overseas.