Wedding Magazine: You and Your Wedding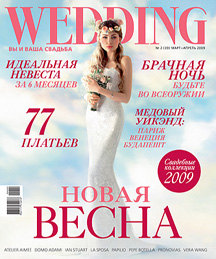 The March-April issue of Wedding magazine has hit newsstands. The theme for this issue is "The New Spring," and the magazine's new slogan - "You and Your Wedding" - reflects the idea that every bride will find exclusive and complete information in the magazine that will help her prepare for the happiest day of her life.
The big hit of this issue are the wedding collections of 2009: 77 dresses from leading designers. A huge variety of dresses is shown, including classical and traditional bride's gowns, Victorian and Empire style dresses, as well as attire from Natalia Valevskaya and Vardoui Nazaryan.
The "For Him" column opens up the world of men's wedding fashion, and helps the groom create his own image. The column contains a wealth of practical advice.
Newlyweds will find the "Wedding Day" column interesting, with its material on Princess Diana, Elizabeth Taylor, Joan Collins and Liza Minelli.
Also in this issue:
What? Where? When?  -  An article on how to organize a wedding in a location in the outlying areas of Moscow. Which to choose - a wedding in the Ostankino Museum, in the Ilya Glazunov Picture Gallery or in the Pushkin Memorial Apartment on Arbat Street?
Welcome Drink: Practical advice on preparing cocktails using champagne.
Wedding Night: Original scenarios as well as wedding rules.
Love Story: A column sharing wedding stories that is a favorite among Wedding magazine's readers. In the newest issue - "An Italian Wedding" about Alexandra and Denis, who took their wedding vows in one of the most beautiful palaces in Tuscany.