Fotoimedia: Summer is coming? Let's grow bigger and better!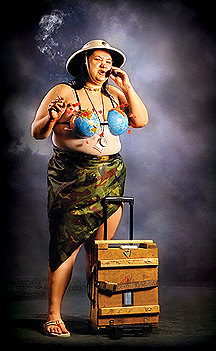 The Independent Media Sanoma Magazines Fotoimedia photo agency is rapidly picking up steam, expanding its circle of partners, clients and its own photo library. The Fotoimedia resource now numbers more than 9.5 million images.
In March alone, the library increased by 12,000 new arrivals, most of which were summer and celebrity photos, including the following:
Magnificent portraits of famous stars from the collection of Viva! magazine (Edipres-Konliga publishing house): Philipp Kirkorov, Ksenia Sobchak, the Band'Eros group, Tatiana Vedeneyeva, a photo of Vladimir Turchinsky surrounded by his family and Mariana Maximovsky with her folks.
Journalistic shots from the Moscow festival of student and debut films "Holy Anna" by photographer Diana Rybakova. Her camera lens caught Zemfira, Renata Litvinova and Nikita Mikhalkov. Photographs of Diana Arbenina are among the photographer's works that can be downloaded.
Magnificent production shots from the IMSM photo studio: Daria Moroz, Tina Kandelaki, Lyanka Gryu, Pyotr Nalich and Yulia Snigir.
A fresh and appetizing collection of culinary photo recipes.
Colorful and positive photographs dedicated to summer themes.
Original work by Mikhail Burlatsky, who placed his art collection on Fotoimedia – the embodiment of the photographic artist's remarkable talent.
You can search for the photos you need from the Independent Media Sanoma Magazines collection at the web site www.fotoimedia.ru. Turn to us – we'll help!