New Project by Business Publications Division of Independent Media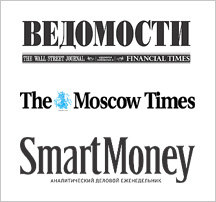 The Business Publications Division of Independent Media Sanoma Magazines presents a new, unique project called Vacancies and Education. The project was created by an alliance between Vedomosti and The Moscow Times newspapers, along with SmartMoney magazine and the employment Internet portals www.careercenter.ru and www.career.vedomosti.ru.
The project signifies a serious consolidation in the vacancies and education publications market - the combined audience for The Moscow Times (counting only the Russian-speaking readership), Vedomosti and SmartMoney totals 170,000* people according to AIR.**
By bundling announcements for job vacancies and educational companies, the new project reaches the combined readership of Vedomosti, The Moscow Times, SmartMoney and the Internet versions of those publications. Most important, that information targets highly qualified specialists with a variety of professional profiles thanks to the different readerships of each publication: Vedomosti -- directors of Russian companies, The Moscow Times - directors and specialists with knowledge of English and experience working for Western companies, and SmartMoney - mid-level managers. As part of the alliance, the Internet-geography will expand by targeting both Russian and Western audiences.
The unified Vacancies and Education resource does not only ensure significant cost savings, it provides providing companies with the most effective resource for attracting highly qualified specialists from Russia and abroad.
More information can be obtained at the web sites www.career.vedomosti.ru and  www.careercenter.
*    Source: TNS Russia, NRS Moscow, September 2008 - February 2009
**  Average-Issue Readership