Best Custom Publications at Independent Media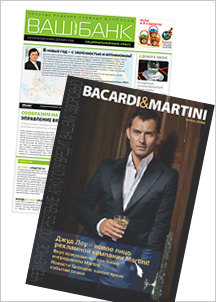 The corporate newspaper Your Bank TRUST and Bacardi & Martini magazine, which is published by the Custom Publications Department of Independent Media Sanoma Magazines, took top honors in the Custom Newspapers and Corporate Magazines categories in the annual all-Russia competition, The Best Corporate Media of 2009.
The awards ceremony was held on March 27, 2009 at the Holiday Inn Lesnaya as part of the Sixth Annual International Corporate Media Association of Russia (CMAR) Conference titled "The Role of Corporate Communications and Media in the Strategic Management of Companies." The winners were chosen by a panel of CMAR experts from among more than 80 nominees. Media business professionals were members of the jury this year, including Sberbank public relations director Irina Kibina, Aeroflot representative Lev Koshlyakov, TNK-BP-Management vice president Vladimir Ruga and other specialists in mass communications.
Speaking at the awards ceremony, Custom Publishing IMSM director Galina Ustinova said, "The Custom Publishing department of the Independent Media Sanoma Magazines publishing house endeavored to use the corporate magazine model to fulfill its goal of using accessible, modern language to discuss current events in the financial market and to inform readers of advantageous banking products offered by its project partner. The Bacardi & Martini magazine is the object of our special pride because we always use unique polygraphic decisions in its production. We are glad that our collaboration with partners NB TRUST and the Bacardi Rus company have earned such a high professional evaluation."
Andrei Sogrin, public relations director for NB TRUST, commented on the publication's award, saying, "In crisis conditions, one of the main tasks of a company oriented toward effective communication with clients, is to provide timely, trustworthy and in-depth information to the public about its new products, financial stability and prospects for growth. NB TRUST works through a chain of 200 branches in 170 cities and that is why it is especially important for us that information about the bank reach even the most remote branches without distortion. Our corporate newspaper accomplishes that task very well."