"Investors' Academy:" Determining the best currency for savings and investment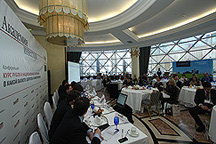 On March 27, the SmartMoney analytical business weekly held the first in a cycle of conferences planned for 2009 called "Investors' Academy." This conference was titled, "The Ruble Exchange Rate and the National Economy: Determining the Best Currency for Savings and Investment."
Speaking at the conference were representatives of the Finance Ministry and the Economic Development and Trade Ministry, as well as directors and leading investment specialists from Renaissance Capital, the RTS stock exchange, MDM Bank, NB Trust, Veles Capital investment company, Saxo Bank, Otkrytiye (Discovery) financial company and VTB Capital.
Government representatives and market participants agreed that the ruble exchange rate would not exceed 41 rubles against a combined Euro-dollar basket in the near future. Nikolai Kashcheyev, director of the economic analysis for MDM Bank, cautioned investors on making sudden moves, saying, "If you are holding investments in three currencies - dollars, Euros and rubles - there is no reason to shake it up now and to change historically formed proportions."
Aside from the favored dollar and Euro currencies, the specialists recommended that investors hold Norwegian krones, Swedish kronas and British pounds. However, the "Academy" speakers put two currencies on their "black list" - the Swiss Franc, due to the artificial trade range imposed by the country's national bank, and the Japanese yen, which they expected to weaken. Speakers recommended the ruble as a logical currency for short-term investments.
Six more conferences will be held by the end of the year as part of the "Investors' Academy." They will address the following topics:
Oil and market capital: Is there life after $30?
Economic cycles: The logic of crises and peacetime tools for protecting private investment.
Real estate reload. Is Vietnam still better than Ostozhenka Street?
Gold. The eternal value of commodities in investment portfolios.
Hedge funds on the global financial markets - investments not for the weak-hearted.
Macroeconomic forecast for 2010: The best investment strategies.