New Issue of One2One Magazine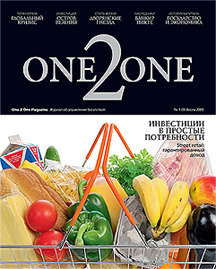 This spring saw the release of the new issue of One2One Magazine. The magazine is produced by UralSib 121 Bank under the commercial direction of the Custom Publishing department of Independent Media Sanoma Magazines.
One2One Magazine is devoted to helping its readers manage their wealth. It seeks to promote the formation of a civilized, competitive market of private banking and wealth management in Russia, and the culture and traditions of responsible capital ownership.
The analysis of the causes and future course of the global economic crisis by the famous Russian economist and businessman Matvei Gutman should be of interest to the magazine's readers – people owning at least $1 million in financial assets – representatives of the professional community engaged in private banking services and major capital management, as well as business media journalists. Gutman speaks about the stability of rent-based mutual funds and alternative investments in gemstones. In the traditional "Educating Your Successor" column, readers will learn about the family of Ivan Pictet – head of the Swiss bank Pictet&Cie, as well as read about Olga Barkalova – wife of investment lawyer Mikhail Barshchevsky – who is raising two adopted children. The issue also includes colorful and informative material about a new form of comfortable travel – train cruises. Readers will find this and more in the new issue of One2One Magazine.