Ameno.ru Awards Best Fitness Club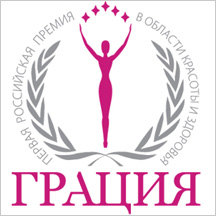 The Grazia beauty and health award was presented at the Imperial Park Hotel & Spa on April 9. As general media partner to the award, the Ameno.ru women's Internet resource presented its own prize.
Throughout the past year, ordinary people voted for the best representatives in the cosmetological, plastic surgery and fitness industries. Approximately 100 companies participated in the competition. A full 150,000 people voted to select winners in 19 categories.
An elegant golden statuette sculpted by Yekaterina Koval was awarded to representatives of the most respected medical centers, dental and plastic surgery clinics, as well as to the very highest-class beauty salons.
The Ameno.ru web site presented the award for "Best Fitness Club: Credibility and Reputation" to the Mark Avrely chain of clubs. The prize was given by the Internet portal's editor-in-chief Svetlana Arkhipova.