Men's Health Dombay Adventure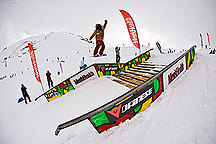 On April 8, with support from the Dainese brand, Men's Health magazine held the Men's Health Rail Master jibbing competition during the 12th snowboarding Flammable Camp on Dombay – the most outstanding event in Russian snowboarding.
Numerous spectators gathered at 11 a.m. next to a pair of rails set up at Quicksilver Park, located 3,000 meters above sea level. Every rider had a chance to try his or her skill on the rails. The jury watched all of the tricks attentively and selected 12 finalists who then continued battling it out for the prizes. It turned out that more than half of the finalists hailed from St. Petersburg, which is not surprising considering that rail-riding is the most widespread form of snowboarding in that region.
For the first time, this year's Men's Health Rail Master was organized according to the foreign "riders for riders" system in which competition participants decide in which format the contest should be held. In the end, all finalists divided half of the prize money evenly between themselves, and the other half of the money they divided between the top three finishers. After a rigorous competition, the winners were:
1st place – Denis "Bonus" Leontyev (St. Petersburg)
2nd place – Nikita Vasilyev (St. Petersburg)
3rd place – Yury "Chelsea" Gavrilov (Moscow)
The evening awards and honors ceremony for the Men's Health Rail Master was held at the Flammable bar next to the ski lift and lasted almost until the early morning hours.