Tests on Topics of the Day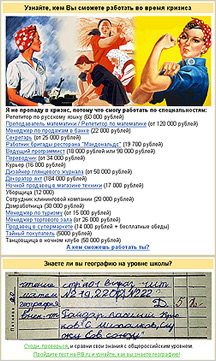 The business network RB.ru simultaneously launched two new tests "on the air" this spring. One is dedicated to a very topical theme – unexpected job loss during the crisis. The second test consists of eight questions from grammar school geography which, according to a VTsIOM survey, only 9 percent of Russians were able to answer. In addition to checking their knowledge, RB.ru users who receive an "A" on the test have a chance to win two tickets to Europe from Swiss International Air Lines.
At a time when many companies are cutting personnel, employees must be ready for anything and think in advance about how to replace their office job with some other type of work. The interactive test "What job can you work during the crisis?" suggests that readers recall their skills, abilities and hobbies in order to find out which interesting paths and unconventional professions are open to a person who unexpectedly finds himself outside the familiar office setting. Further, the test results list the salary level of people working in the suggested professions. That data was collected from real-life stories published in the Salaries Update and The Secret Job Applicant.
The test "What job can you work if you are fired?" is a continuation of a series of anti-crisis tests for office workers that regularly appear on RB.ru. Among the most popular tests are those titled "For what could you exchange your apartment in Moscow?" and "How much money do you need to never have to work again?"
The second newly-introduced test on RB.ru this spring, "Do you know grammar school-level geography?" is the second test of general knowledge after a test on the Russian language. According to a VTsIOM survey, only 9 percent of Russians could give correct answers to the eight simple geography questions. That is precisely the reason the test has become so popular: Readers find it interesting to see if they can become members of that small group of outstanding students of geography. What's more, the opportunity for participants to win free tickets to Europe is a good reward for those who earn high marks on the test.
More than 200,000 people took the geography test during the first several days after it appeared on the site. Both tests received strong responses from users and were frequently mentioned in blogs. The RB.ru editorial board received numerous letters from readers who liked the tests.
RB.ru is an interactive business portal for the office worker audience. The project combines a business news service, a professional community, business reference services, career advancement services and sections on individual investment, real estate and office life. The average daily audience numbers 100,000 individual visitors. The project is part of Independent Media Sanoma Magazines' portfolio of business publications.