Yes! at Faces&Laces Exhibition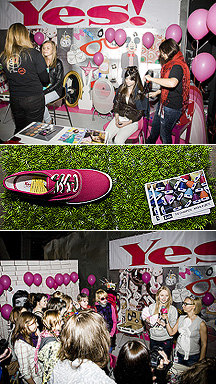 Yes! magazine took part in the unique Faces&Laces exhibition of street fashion held on April 24 and 25 at the legendary Cosmos pavilion at the All-Russia Exhibition Center.
The "cosmos" theme was in the air, in both the literal and figurative sense. Visitors could ride a centrifuge or train on a special inflatable bounce, as well as shoot a video for their descendants that will be sent to neighboring planets.
The Faces&Laces project, dedicated to real-life street fashion, visual communication and subcultures, was held for the third time. For two days, the gallery space was filled with the work of top Russian and Western graffiti writers and street artists. The exhibition also included every imaginable type of exclusively designed sneakers and Keds.
As part of the exhibition, Yes! magazine invited all guests to a pink room where amazing things were on display that had been used by the publication in various photo shoots. They included an enormous pair of glasses, a white bicycle, Mickey Mouse, a retro-style suitcase, a horse, a rabbit, purses and much more. Especially popular was a white bench, cozily tucked away under the shadow of balloons. Nobody turned down the opportunity to participate in a photo session either.
Each evening at the Yes! stand, a stylist was on hand to give creative hairdos and make-up to all interested guests. Oleg Pozdnyakov, chief stylist for the First Channel project, worked the Yes! stand on April 24. On April 25, Yelena Usanova presented stylists from the Go Coppola chain of Italian beauty salons. Her 20-minute master class conducted together with Yes! fashion editor Katya Klimova attracted most, if not all of the guests at the exhibition. Many young women took the April issue of Yes! home with them and received prizes from Kira Plastinina.
Yes! served as official partner of the exhibition. The magazine's logo was placed on all of the event's outdoor advertisements and printed materials, and also on an Internet banner.