Say Yes: First Aid Given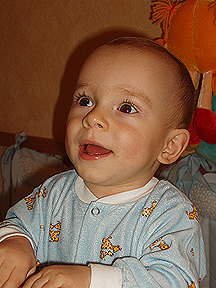 The first results are in for the Yes! magazine charitable campaign - "Say Yes: Buy a Button - Help Children." More than 5,000 people across Russia are already proudly wearing buttons on their chests with the Say Yes symbol. With their help, it was possible to collect a significant sum in contributions and help a child suffering from infantile cerebral paralysis.
The first support payments went to Sergei Shashkin. He was born at 30 weeks with a weight of 980 grams (2 lbs. 2 ounces) and measuring 37 centimeters (14 inches) in length. Sergei has congenital hypoxic nervous failure and delayed prematurity. When he was 12 months, doctors diagnosed Sergei with infantile cerebral paralysis, spastic diplegia and delayed development of his psychology and speech.
The funds collected will go toward providing non-traditional dolphin assisted therapy. This form of therapy has already produced positive results: Sergei can get up on all fours, crawls around the rug and playpen, can hold things with one hand, bends over and straightens up, sits well with a support, and can sit for a short time without any support. Sergei's ability to recognize objects in his surroundings has also improved.
Say Yes buttons can be ordered from anywhere in Russia by sending an SMS or can be purchased at participating stores. The next part of the money collected will soon be given to the Russian Children's Clinical Hospital in Moscow to treat children with cancer.