Mamas&Papas: Summer Preparedness #1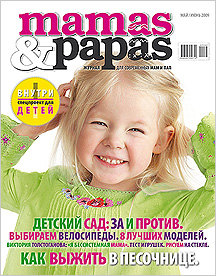 The third issue of Mamas&Papas will be released on May 19 – the double issue is dedicated to the opening of the summer season.
The issue includes:
The main theme: "Playing mud pies."
The sandbox – it is not just a simple wooden frame, but a real theatrical stage. Its main stars are children who play in every conceivable role. Here you will see Plushkin, who grabs seven little spades for himself, and the Gladiator who is ready to fight every newcomer simply as a form of greeting. Parents actively play along, each in his or her own way. Who will you become when you send your child to the playground – the Muse, Panicky Paula or Fannie the Fusspot?
Calendar: On Children's Protection Day, we will get acquainted with the United Nations convention on "children's rights," at the play "Mushroom Mayhem" we will fight with troops of Poisonous Toadstool and Faded Fungus, and at the capital city's ice cream festival we will try mint-flavored Eskimo pies and strawberry deserts. Best to go with Papa to the fairgrounds on the weekend, and as for grandmother, she will enjoy a new edition of Pushkin's classic works – and the little one will like hearing them read aloud.
Method: The pros and cons of the Nikitin method of child rearing.
Boris and Yelena Nikitin raised their seven children using a special methodology. They took their toddlers outdoors in the cold without clothing, and taught them the alphabet beginning at 18 months. For the 1970s, it was a real breakthrough, and the young Nikitin children proclaimed a "dynasty of prodigies." However, now that they have grown, they try to forget their parents' experiments…
Practice: Stores on the Web.
You can buy absolutely anything on the Internet – from unusual toys to children's clothing and shoes from the latest collections. This article examines the pros and cons of Russian and foreign Internet shopping resources, cooperative buying, Web scams and verified addresses.
Also in this issue: A visit to the park for roller skating and jumping on the inflatable bounce, filling water pistols, testing children's bicycles, weighing the pros and cons of kindergarten, breeding canaries and much more.