With Wedding at Seychelles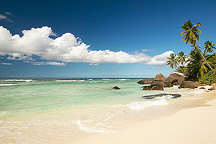 A new game for lovers organized by Wedding magazine and radio station Hit FM will be aired on the station for the month of May 18 to June 18.
The May issue will announce the new contest, the goal of which is to determine how well the lovebirds know each other. To participate, listeners are invited to call in live to Hit FM radio and answer the program host's questions. The winning couple will be the one giving the most correct answers to questions about each other's likes and habits. Contest finalists will be determined weekly, and the competition will conclude by giving away the grand prize – a trip for two to Seychelles.
A 30-second spot announcing the contest will air throughout the month on Hit FM radio.