New Wedding School Lesson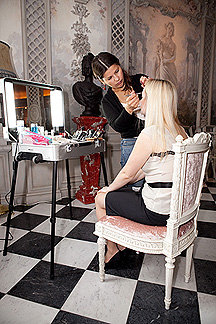 The Wedding School successfully conducted its second lesson. At the Casta Diva restaurant, young couples planning their wedding ceremonies attended master classes specially prepared for Wedding – the magazine for newlyweds. At the classes, top specialists from the wedding industry shared the secrets of their trade with Wedding's readers.
Valentina Starova, public relations spokesperson for the Marriott Hotel International Group, shared with school participants how weddings are organized in other countries, described wedding traditions of different peoples and some of the more interesting features of their ceremonies. In Starova's opinion, only a professional can organize a beautiful ceremony that plans every detail and that takes all of the lovers' wishes into consideration.
Margarita Oganesyan, director of the Workshop of Miracles agency for organizing holidays, conducted a master class with a collection of original wedding scenarios and gave practical advice on how to make a wedding striking, unique, and truly unforgettable and helped Wedding School participants make first drafts of their own wedding scenarios. Florist Zhanna Filosofova of the floral studio Turandot described modern trends in wedding floral arrangements, showed young couples the season's hottest bridal bouquets, and gave recommendations to each young woman as to which flowers best matched her appearance. 
Each bride had an opportunity to consult with a wedding specialist during the lesson. Natalya Vlasova, a beauty specialist with the Lancôme cosmetics brand, applied professional wedding make-up to the young women and shared ways to care for their skin prior to the wedding, as well as secrets to help the brides stay beautiful throughout the ceremony. Image consultants from the Beauty Embassy salon gave their recommendations for choosing shades of color in wedding apparel, as well as for hairdos, accessories and jewelry. The Wedding School also included representatives from the Victoria Casal jewelry boutique who presented their exclusive wedding collection of jewelry to make the optimal complement to the bride's image.
The master class by GallaDance studio was a pleasant surprise for students. A professional dance pair demonstrated a fabulous wedding dance, and the young couples were able to learn the basic dance movements.
Also during the lesson, guests enjoyed Asti Martini champagne and dishes from the Portable Feast catering service. The concluding note of the evening was a taste sampling of a wedding cake presented by the Pushkin confectionary restaurant.
Per tradition, the event ended with guests competing for valuable prizes from Lancôme, Serednikovo Manor and the Workshop of Miracles. Each participant also received two complimentary passes for lessons at the GallaDance school.