"Create Yourself" Excursion in Pushkin Museum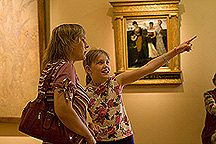 The Moscow Times newspaper, in partnership with the Pushkin Museum of Fine Arts, has organized an excursion for children participating in the "Create Yourself" charitable program.
Yelena Rymshina conducted the first tour through the gallery of European and American art of the 19th and 20th centuries. She told how the rich and valuable collection of works by legendary artists was collected little by little over the course of the second half of the 19th century.
The children became acquainted with the art of Charles-François Daubigny, Constant Troyon, Camille Corot, Eugène Delacroix, Jules Bastien-Lepage, Édouard Manet, Paul Cézanne and various movements in painting such as the Barbizon School, Romanticism, Realism and Impressionism. The children also learned interesting facts about the lives and art of the painters who created the masterpieces of that epoch.