The Moscow Times Gives Invitation to World Press Photo 2009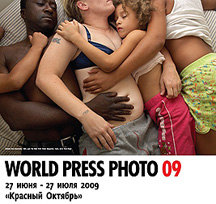 The Moscow Times supported a unique traveling exhibition of World Press Photo, the most prestigious photo journalism competition in the world. The exhibition will run from June 27 through July 27 at Krasny Oktyabr in Moscow.
The contest's 52nd finale was held this February in Amsterdam. For the third year running, the Objective Reality Foundation brought an exhibition of the World Press Photo competition laureates to Russia.
The exhibition's photos depict the most important world events of 2008 – from recent breaking stories of historical significance and sports subjects, to scenes of everyday life from every corner of the world. Visitors to the exhibition have the opportunity to obtain firsthand views of images that might never have been published in any of the traditional media.
The international success that the World Press Photo exhibition program has enjoyed illustrates the power of discourse that photographs possess, regardless of political and cultural barriers. This year, the World Press Photo exhibition will be displayed in 100 cities around the world – from Holland to Japan.
On June 27, as part of the Moscow showing of the exhibition, master classes will be conducted by contest winners Anthony Suau (USA) and Guillaume Herbaut (France).
A special distribution project for The Moscow Times and the International Herald Tribune newspapers, as well as a presentation of the Create Yourself album, will be held on June 26. June 29 and 30 are for children – on those days, the young participants of The Moscow Times Create Yourself charitable program will be given a special excursion of the exhibition.
Shown in photo:
World Press Photo – Photography of 2008. Anthony Suau, USA, for Time magazine.
The U.S. Economy in Crisis: Police Officer Robert Cole must make sure that tenants evicted for not paying their mortgages have actually left. Cleveland, Ohio, March 26.
1st prize / General News / Singles. Luiz Vasconcelos, Brazilia, Jornal A Crítica/Zuma Press. A woman tries to resist police eviction of squatters on private land. Manaus, Brazilia, March 10.
1st prize / People in the News / Series. Callie Shell, USA, Aurora Photos for Time. Barack Obama's presidential campaign. January – October.