Homes Overseas Assesses Best Projects in Bulgaria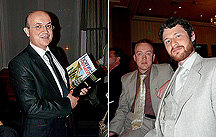 An awards ceremony for The Best Project of 2009 was held at the Sheraton Hotel in Sofia on June 18. Homes Overseas acted as informational sponsor of the event, and the magazine's editor-in-chief, Sergei Rymov, served on the contest jury.
This was the first event of its kind to be held in Bulgaria. More than twenty resort properties located near the sea, in the mountains and in the cities competed in six separate categories.
The jury spent one week traveling to view the properties: While the Russian delegation visited the seaside projects, the Bulgarian group became acquainted with the urban and mountain properties. Because a strict elimination process had already been conducted, practically all of the properties elicited very positive impressions. Bulgaria is rapidly becoming part of Europe, and this is reflected both in the choice of which properties are built, and the quality of their construction. Developers have gained experience, learned from past mistakes, and now offer buyers excellent properties at affordable prices.
The awards ceremony at the Sheraton Hotel became a noteworthy event, both for the real estate market and for Sofia's high society. Participants were entertained by stars of the Bulgarian stage as well as a dance show. The high point of the evening came when jury members announced the results of the contest. Sergei Rymov announced the winner of one of the most prestigious categories, "Best Seaside Complex Under Construction." The award went to Fair Play Properties for its Santa Marina project in Sozopol.
Contest results will be published in the summer (July-August) issue of Homes Overseas, and readers will be able to learn more about the winning Bulgarian projects in the magazine's September issue.