Yes! at Graduation Ball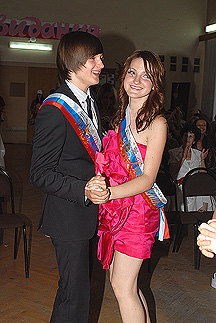 Graduation balls were held in many Russian schools on June 23, and Yes! magazine participated in one of them.
The choice for the celebration's venue was no accident – a schoolgirl at School Number 5 in the city of Vidnoye won the creative contest announced in the May issue of Yes! calling for the graduation scenario of your dreams. As her award, the young winner was given an exclusive dress designed by Kira Plastinina plus an incredible make-up job and hairdo for herself and two girlfriends.
The main surprise of the event came with the arrival of the magazine's editors accompanied by Russian stars. Designer Kira Plastinina (who has yet to graduate from high school herself) was on hand to offer her congratulations to the graduates, along with singer Sogdiana, Star Factory student Dakota, the Balabama group that includes singer Dmitry Tikhonev, who also plays in the Ranetki (Little Apples) television series, guitarist "Basty" Nanik and the ST hip-hop project. The graduates greeted the Yes! editors and performers with flowers, battled it out to be named the King and Queen of the Ball, and danced to the music of the live performances.
Along with their high school diplomas, all of the graduates received special gifts from Yes! magazine.