Summer Journeys with National Geographic Traveler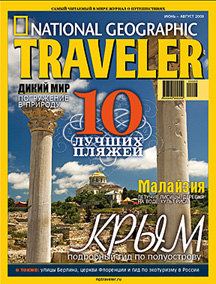 Crimea is the center of attention in the new summer issue of National Geographic Traveler. Readers will learn how to feel at home on the peninsula by visiting the Crimean caves and Ghost Valley, getting acquainted with traditional Russian winemaking, encountering antiquity and even becoming a hermit.
Also in this issue:
A colorful parade of the best beaches in the world. The refreshing taste of sangria in Marbella, the eastern charm of Kashi, head-spinning surfing in Sidney, pirate treasure on the Seychelles Islands, the legendary Copacabana - even the most sophisticated beach lover will love this Top 10.
Everything you always wanted to know but didn't know whom to ask about - baggage. National Geographic Traveler answers the main questions about how baggage is frequently lost, banged up, searched by Customs and confiscated.
Adventure column: Take a fascinating dive into the wild nature of Botswana, India, Cyprus and Russia - National Geographic Traveler journalists describe how to live next door to elephants and hippopotami, wake up in camp to find lion tracks nearby, and live according to the laws of wild animals in nature reserves.
A special offer from National Geographic Traveler and Toyota to suit the tastes of ecological tourism fans. A guide to the best summer routes includes maps, photographs, detailed descriptions of points of interest, directions and roads of four Russian regions: the Northwest, the South, the Volga and the Urals.
The new issue of National Geographic Traveler is already on sale.