The Moscow Times at the U.S.-Russian Business Summit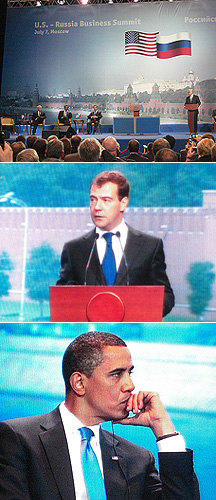 The Moscow Times was the only newspaper to participate in the U.S.-Russian Business Summit attended by Russian President Dmitry Medvedev and U.S. President Barack Obama. The special color issue of the newspaper was released on July 7 to coincide with Barack Obama's visit to Moscow.
The Business Summit, held in Moscow's Manezh, was organized by the Russian Union of  Industrialists and Entrepreneurs (RUIE) and the U.S. Chamber of Commerce – with more than 700 key representatives of Russian and international business, the political elite and civic organizations as members.
Speaking at the summit, Dmitry Medvedev and Barack Obama touched on the most important questions regarding bilateral investment, trade and economic cooperation. Summit speakers also included Alexander Shokhin of the RUIE, Russian Economic Development Minister Elvira Nabiullina, Andrew Summers of the U.S. Chamber of Commerce, Alexei Mordashov of Severstal, Mikhail Prokhorov of the ONEXIM Group, Vladimir Yakunin of the Russian Railroads, Vladimir Lisin of the Novolipetsky Metal Plant, Igor Zyuzin of Mechel, Viktor Vekselberg of Renova, Klaus Kleinfeld of Alcoa, Neil Duffin of ExxonMobil, James Malva of ConocoPhillips and others.
The Moscow Times is a source of independent and reliable information about Russia. It is the only English newspaper in Russia that is issued daily and distributed both by subscription and in major Moscow business centers, hotels and restaurants. During the U.S. president's official visit, The Moscow Times served as a source of breaking news for the U.S. delegation, Western businesspeople and their Russian partners.