Dzhamiliya Iskandyarova – Laureate of Best Media Manager Contest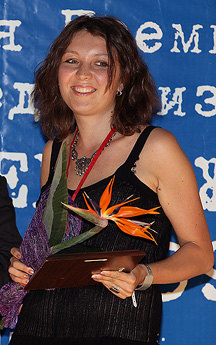 Dzhamiliya Iskandyarova, director of Vedomosti's conferences department, was named the laureate of Best Russian Media Manager - 2009 Contest and received a special diploma "for developing an independent business based on a newspaper brand."
The results of the jury and expert council's decision for the Best Media Manager of Russia - 2009 national award were announced on July 9, 2009 at a ceremony held in Moscow's Bellagio Restaurant. The awards were presented to the winners in front of 600 guests.
Best Russian Media Manager - 2009 award is a national event. According to representatives of the media community and independent experts, the award is the most professional and authoritative assessment of modern media achievements in Russia. More than 100 people were in the running for the award this year.
The Vedomosti staff and the management of Independent Media Sanoma Magazines publishing house congratulate Dzhamiliya Iskandyarova and wish her continued success in her work. They also wish to thank all of the media community representatives who voted for Iskandyarova.
Dzhamiliya Iskandyarova is a graduate of the Higher School of Economics. She worked for several IMSM publications, including as marketing director and director of special projects for Cosmopolitan magazine. Since August 2005, Iskandyarova worked in the conferences department of Business News Media (published by Vedomosti newspaper) as a senior manager for sales and marketing, and then began directing the organization of conferences addressing specific sectors of the economy. She has served as the department director since 2007.