National Geographic Traveler Invites Readers to Legendary U.S. Highway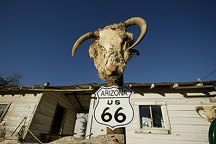 On July 17 at the Mercedes-Benz Center, National Geographic Traveler presented a series of works by renowned photographer Andrei Kamenev titled "Route 66: America's Main Road."
The legendary Route 66 was the world's first long-distance highway. The country's economy formed around it, and the road gave birth to a new romance with automobiles. Route 66 stretched 4,000 kilometers (2,400 miles), from Los Angeles on the Pacific shore to Chicago on Lake Michigan, and in the 1920s, it became a direct route to a better life for millions of Americans.
Andrei Kamenev is a photographer and traveler, a regular contributor to both National Geographic Russia and National Geographic Traveler and the creator of the 2008 "Roads" exhibition that included the best photographs of roads from around the world. This time the photographer has focused his full attention on Route 66 - the renowned U.S. highway.
On July 17, the Mercedes-Benz Center was immersed in the atmosphere of old America. Guests got a feel for the inimitable connection between the road and history, participated in a test drive of a Harley-Davidson motorcycle and received complimentary copies of National Geographic Traveler magazine. Admission to the July 17 opening was by invitation only, but the exhibition is now open to all comers.
Anyone wishing to encounter the history of American roads and experience thrilling speeds and true comfort can visit the Mercedes-Benz Center at 39a Leningradsky Prospekt from July 18 to 31, 2009.