The Century's Best Items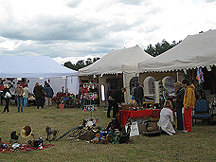 Na Rublevke newspaper organized its traditional "Flea Market on Rublevka" near the Katok.ru sports and recreation center.
The fair was opened with the festive chiming of the Campanile traveling bell troupe. The Nostalgia 20th Century and Babushka private collections generated the most interest among visitors. They included vivid tokens of the past century: a Pioneer bugle, typewriters, a gramophone, a combination radio-lamp, a manual sewing machine, Christmas tree ornaments, housewares and many other things that elicited pleasant and nostalgic memories from guests. A legendary GAZ-67 automobile also made a first-time appearance at the Flea Market on Rublevke.
Up for sale at the fair were paintings and art graphics from the Gallery at Barvikhe, the private Retrospective collection and from artist Dmitry Shkardunom, painted furniture from the studio of Anastasia Nemolyayeva, unique Taga clothing, Russian and Soviet-era porcelain, glass objects and a wide choice of bronze and stone sculptures. The Caps and Hats Salon offered custom headwear by Russian designers as well as world-famous brands, and the Brocade Boutique sold vintage clothing, ornaments and accessories. The Little Japan Gallery offered vases, panels and items from bone, silver and porcelain that were made in Japan and China.
The MD-studio workshop for Roman mosaics brought a wrought table with a mosaic tabletop and conducted a master class on making marble mosaics. The Rublevka-book.ru store rounded up unique books published during the Soviet era, reprints of rare and antique publications as well as books containing autographs of famous people. The Berestyanaya Gramota company also sold unusual objects made from birch bark.
Olga and Lyudmila Chernikova offered handmade felt boots. The Brittany Auto company, partner to the event, made car lovers happy by organizing test drives on the new Peugeot 308 CC cabriolet. Guests wanting to ride along Rublevka with the wind in their hair stood in line for the chance. The folk group Ivan-Chai provided the cultural part of the flea market program.
Na Rublevke newspaper's long-standing business partners organized and conducted the publication's fourth flea market. They include the Moscow Credit Bank branch office in Gorkakh-2 that offers its clients various forms of deposits and investments yielding up to 20 percent annual interest as well as every possible mortgage program. Na Rublevke newspaper also wishes to thank the Brittany Auto official Peugeot dealership, the Holiday Theater company, and of course, the Katok.ru sports and recreation center.