Men's Health at Formula 1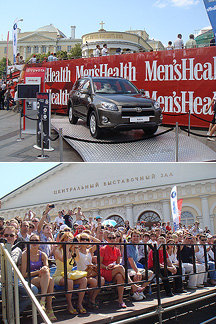 The Bavaria Moscow City Racing competition was held in the Moscow city center on July 19, with the Formula 1 race cars making a demonstration lap around the Kremlin. For the first time in Russia, the drivers of three teams from the king of races arrived: David Coulthard (Red Bull Racing), Heikki Kovalainen (Vodafone McLaren Mercedes) and Kazuki Nakajima (AT&T Williams). The legendary David Coulthard set the speed record on the 4.5-kilometer track. In addition to the Formula 1 race cars, Russia's KamAZ-Master team led by Vladimir Chagin also took part in the race.
All racing teams started from the Vasilyevsky slope, followed the route around the Kremlin to Tverskaya Street where they turned around. Men's Health magazine set up bleachers on Manezh Square. Tickets to attend were not sold, but given away on a lottery basis for the two weeks prior to the race on the web site www.mhealth.ru. An area for fans was set up behind the bleachers where VJ Vinilkin played for the four hours of the race and guests could try the new Nintendo game Wii Sports Resorts, beef up on Red Bull and check out the new Toyota RAV4 – the grand prize of the "Men's Health PRO-Motion Campaign in Your City."
Most of the race's guests had an opportunity to be photographed alongside the Formula 1 race cars at the Vasilyevsky slope. Also on hand were retro cars and sports cars. Some of the owners were especially generous that day and allowed people to sit behind the wheels of their cars to pose for photos.
The organizers of the Bavaria Moscow City Racing felt the event was very successful and it seems that it will become a new tradition. That such a large-scale event took place has instilled hope among Formula 1 race fans that a full-fledged course will soon be built in Moscow to host this race – a favorite among spectators.