Super Yes!-Stars Hip-Hop Issue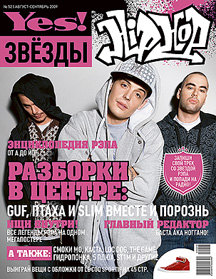 Yes!-Stars magazine first appeared along with the Star Factory project and has long kept readers informed about the brightest representatives of pop culture. But times change, and in place of the old heroes, new ones come along to take their place.
The magazine has always tried to catch the latest youth trends, and that is precisely the reason why the theme of the next issue is dedicated to hip-hop and Russian rap - the most fashionable and progressive style of music among youth today. It is a style that began as an alternative trend, but has now transformed to become a super popular and glamorous movement that has even started dictating its own rules.
The distinguishing feature of this issue is that Basta - star of the Russian rap scene and cult-figure to millions of young women - will be acting as editor in chief of the magazine. The brightest stars of hip-hop joined him in preparing the issue. Yes!-Stars Hip-Hop will be released with a special design and will include not only new sections, but also a special gift for readers - a super A1 format poster.
Also in this issue:
Hip-Hop FAQs;
Hip-Hop History - From New York to Russia;
Interviews: Loc Dog, 5 Plyukh, Kazhe Oboima, St. Marselle, Ekhkhu;
A Rapper in Depth;
Rap Style.
The magazine will be heavily advertised in the media: on the A-One television station, on radio stations Next FM, DFM and UFM, on Internet resources www.yes.com.ru and www.mail.ru, as well as on the informational rap sites www.missrap.ru, www.rapnovosti.com and www.prorap.ru. The advertising campaign includes the placement of broad sheets and posters in movie theaters, stores and clubs as well as the distribution of fliers at themed events.
In further support of the issue, two large-scale events will be held and united into a single theme - "Everyone is reading it." An exhibition dedicated to hip-hop culture will be held at the Gallery L from August 6 to 20, and on August 15 at the Zhara cultural club, a party will be held dedicated the release of the magazine's special Yes!-Stars Hip-Hop issue.