The Moscow Times Expands Distribution Network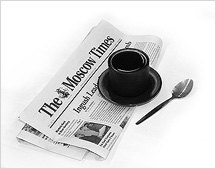 The Moscow Times has expanded its distribution network. Now the newspaper and its inserts can be found in the Coffee House chain of coffee shops in Moscow.
The Moscow Times is a traditional newspaper published in English – a source for the latest news and useful information for foreigners and English-speaking Russians. Now visitors to Coffee House cafés can not only relax with a hot cup of coffee in the morning, but also read the breaking news. Of special interest are the newspaper's special sections on jobs and educational programs (every Wednesday and Friday), as well as interesting ideas for services and entertainment in Moscow (every Friday).
The expansion of The Moscow Times' distribution network is aimed at increasing loyalty among readers who consider it important to get timely news from Russia's only English-language daily newspaper.