Exhibition by Yes!-Stars Magazine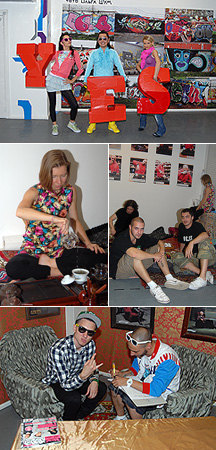 Yes!-Stars magazine opened an exhibition of street art at the L-Gallery in honor of the release of a special issue on rap, created with the support of the most authoritative hip-hop musicians and designers.
The exposition includes work by trendy writers, pixel-art images, a Basti tea-corner, retro film clips, graffiti panels, rare audio cassettes, stars' personal effects, the history of graffiti and much more.
Many representatives of the hip-hop scene gathered for the exhibition's opening: Center, Marselle, ST, 5 Plukh, Godroponka and others. The Tea Culture Club also held a tea ceremony as part of the presentation. Guests had a chance to enjoy the taste of authentic Japanese tea, view exhibition items, listen to cult rap singers and listen to World War II – style informational blurbs on the history of hip hop that were read during the breaks between activities.
The event was attended by media representatives from MTV, Music-TV, SVAO television, news radio stations NEXT FM, DFM and others.
The exhibition will be open to visitors until August 22. Admission is free.