Real Estate Catalog Releases New Issue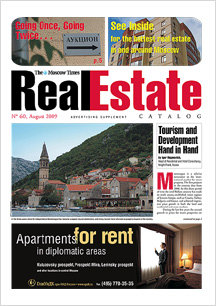 The August issue of Real Estate Catalog takes a look at the practice of selling property through auctions, a practice that has become more popular in many countries. But even experts in the field have trouble naming a single reputable Russian real estate auction. The new issue of REC examines Russia's relatively undeveloped practice of selling residential real estate at auction, and attempts to explain why so little Russian real estate is sold using this method.
The issue also offers an overview of the real estate market in Montenegro. With the recent sharp rise in the tide of tourists visiting the country, interest in buying resort properties there has also increased. However, that growth stopped when potential buyers' purse strings became tighter. What does the future hold for the real estate market in that country?