Turn Over Your World with Yes!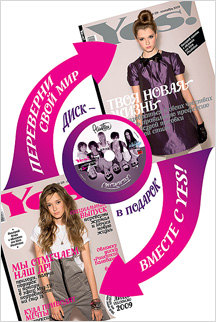 In September the magazine presents a special "turned-over" issue with two covers. The main theme of the issue is: change yourself and everything around you, turn over your life, change your appearance and inside world, give new life to old things.
The special "turned-over" section is devoted to various turns for the better. It includes articles about image experiments, renovation of old things, as well as ways of starting relationships, adapting in a new company, learning better, doing more and thinking quicker. During the production of this issue, Yes! editorial team has started new life, too: everyone has made his own experiment under slogan "Get rid of everything which disturbs".
Besides, the issue contains a CD with songs of both two youth groups: a girls' band Ranetki which has already become popular, and a beginner boys' band Balabama.
The issue is being supported by a large advertising campaign which includes outdoor advertisement, top-priority positioning at points of sales in Yekaterinburg, Novosibirsk and Samara (city formats, light boxes and cash zones in supermarkets, triptych spread, special window pocket in kiosks); product placement at A-One TV channel; commercials on DFM; HTML block at Mail.ru; posters in the largest high schools and cinemas.