The Moscow Times Photographs in Fotoimedia Collection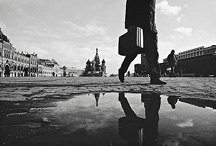 Fotoimedia has a number of new developments in preparation for the upcoming autumnal season. The photo agency's collection was augmented by the photo shoot archives of The Moscow Times newspaper.
Images from the "Reflections" photo album dedicated to The Moscow Times newspaper's 10th anniversary were added to the collection. Now Fotoimedia users have access to archives of materials produced by leading correspondents and photographers – masters of photojournalism –  including Vladimir Filonov, Igor Tabakov, Mikhail Metsel, Yevgenia Stetsko and Khuba Golshtein. These photos were taken between 1992 and 2002.
Many interesting historical images from various years will also soon appear on the www.fotoimedia.ru site, including famous political and civic leaders along with highlights from our country's recent past.
The Vedomosti newspaper archives are accessible by request. The enormous collection of images from the business weekly includes photojournalists' shots of the main economic, financial, corporate and political events along with portraits of well known figures. The "stars" collection has not been overlooked either: it receives regular additions of new, sumptuously staged shots of popular personages. 
These and many other photographs can be found at the site www.fotoimedia.ru.