Yes! In the Big City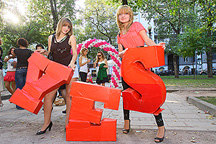 Yes! magazine presented its "Yes! In the Big City" program dedicated to its own anniversary and to Moscow's City day on September 5 at Tverskaya Square and on Tversksaya Boulevard.
The Yes!-Zone recreation area opened its doors at 2 P.M., not far from the main concert area on Tverskaya Boulevard. Over 50,000 people visited the zone, many of whom were happy to participate in the photo sessions, styling classes and games conducted there by the magazine staff and their business partners. Everyone who was not too lazy to cut out a pennant from the September issue of Yes! received a special complimentary gift.
More than 35 performers took part in the four-hour concert staged on Tverskaya Square from 6 P.M. until 10 P.M. They include: Vlad Topalov, Viktoria Daineko, Alexei Vorobyov, Sogdiana, Noize MC, Ed Shulzhevsky, Slava, Nastya Kochetkova, Dino MC 47, Elektra, Nyusha, Roma Kenga, and music groups Dynamite, Mobilnye Blondinki (The Mobile Blondes), Barkhat (Velvet), Balabama and many others. The young fashion designer, Kira Plastinina took the stage to congratulate Muscovites on the holiday, and the event was closed out with a fiery performance by rap singer Timati. Afterwards, spectators were treated to a festive display of fireworks.
A total of approximately 500,000 Muscovites visited the city center that day. The concert was included in the government's City Day program. Over 100 city posters were used to announce the Yes! magazine concert.
The Muz-TV music TV channel acted as informational partner to the event. The channel broadcast a total of more than 30 minutes of ads announcing the event, as well as reports following the event. Guests visiting Yes! for the event also included MTV, Ru TV, Music Box and many others.