In Paris with National Geographic Traveler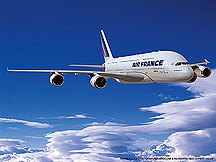 National Geographic Traveler magazine and Air France airlines are conducting a contest. By answering four simple questions and describing their fantasy of a romantic evening in Paris, magazine readers can win two tickets to the city of their dreams. Other finalists will receive consolation prizes such as purses and cosmetics from Longchamps, umbrellas, men's watches and toiletry bags for traveling.
Submissions will be accepted through October 12. More contest information is available in the October-November issue of National Geographic Traveler and on the site www.ngtraveler.ru.