National Geographic Traveler Opens Fall Travel Season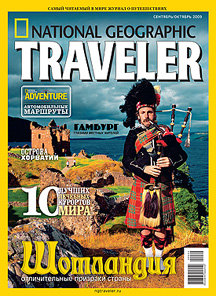 Captivating Scotland is on the cover of the new issue of National Geographic Traveler. The magazine gives readers absorbing reports of legendary poltergeists, castles with ghosts, evil beings as well as many other soul-chilling places of interest and mystical locations of that country.
Also in this issue:
Hamburg through the eyes of its citizens – new guidebook offers travelers the most unexpected routes and tells what is worth visiting on the streets of free customs;
 – Riperban, which musical is worth seeing, how to get a bird's eye view of the city, which amusement park rides are best as well as where to find the best sea food restaurants in the largest ports in Europe.
The 10 best balneological resorts in the world: unique natural resources of the Earth where centuries-old secrets and traditions of the peoples of the world make it possible to combine relaxation and healing. Special material tells readers where they can vacation to aid both body and soul.
Strategy: Holiday by Exchange – everything needed for readers who want to repeat the experience of the heroines of the sensational film, and for those who love non-standard travel.
Sail Croatia: NGT pulled anchor to participate in the big Royal Regatta race, and in the new issue publishes a daily journal describing the fascinating journey on board a yacht sailing through the Croatian islands.
National Geographic Adventure: NGT correspondents travelled to China on cars where they drove through a hole in the Great Wall, peeked into cell of a Shaolin monk, trod in orange booties on the Gobi desert and managed to see numerous more amazing places. Readers will also learn about unique new automobile routes along the East Coast of the United States, in France, Corsica, the Russian North and near Lake Baikal.
The magazine will go on sale September 22.