Yes! at Monsoon Showing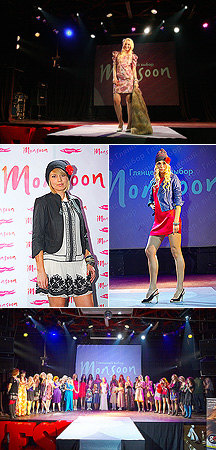 A presentation was held of the new autumn-winter 2009 collection titled "The Sleek Monsoon Selection" for friends of the brand at the B2 Club on September 16. Guests visited an exhibition of fashion magazines in which Yes! took part.
The fashion show was opened by Yelena Usanova, television hostess and PR director for a chain of beauty salons. She created an ironic and memorable image. Singer Dakota elicited a storm of applause with her confident stage entrance wearing a blue cocktail dress. The elegant Yelena Knyazeva wore a fuschia mini-dress. The Yes! choice was presented by editor-in-chief Irina Ilyina and fashion editor Yekaterina Klimova: their look was thought out to the last detail and corresponded to the youthful and flashy style of the magazine. The fashion show closed with a bride - actress Darya Saglova surrounded by tiny models. During the finale, the celebrity models all took the stage together to the applause of the guests. Collezioni, Cosmopolitan Shopping and many other magazines also took part in the show.
The program also included a contest hosted by Monsoon Accessorize and the latest make-up trends from the travelling beauty school.