Men's Health at 2009 Black Sea Cup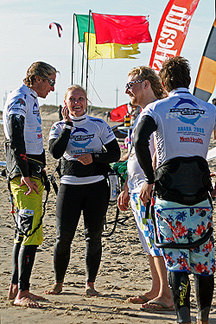 September 21 marked the kick-off of the Black Sea Cup 2009 – the largest Russian windsurfing and kiteboarding competition. This is the fifth such event held. Men's Health magazine is the general informational partner to the Russian kiteboarding cup.
Kiters race along the Bugazskaya bank in the Kiziltashsky lagoon not far from Anapa. The open Russian windsurfing championship takes place in the city itself, in the Anapa yacht club aquatic area. The competition ended on September 30. Over the 10 days of competition, the athletes waged a serious and uncompromising battle to determine who is the best among them.
Black Sea Cup is the final stage in the Russian kiteboarding cup, with the result determining the 2009 Russian champion. This is why the competition in Anapa is critical, and the struggle is fierce, spectacular and gripping. At this writing, the contenders with the greatest chance of becoming the 2009 champion are Yevgeny Novozheyev of Moscow (former champion in 2006 and 2007), Sergei Belmesov of Solnechnogorsk and Alexander Ishchenko of Rostov-on-Don.
Men's Health is closely following the progress of these athletes in this, today's most popular form of extreme water sport.