Interni 14: Made in Italy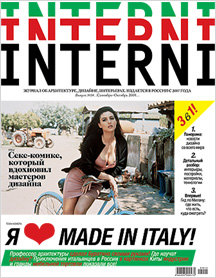 The new September-October issue of Interni – the 14th to date – has been released. It is almost entirely dedicated to Italy: In the first section, readers will find reviews of the Salone del Mobile 2009 and Fuori Salone, an interview with Italy's Deputy Minister for Economic Development Adolfo Urso, and 10 directors of Italian design companies – from Artemide to Poltrona Frau – who explain what "Made in Italy" means and why it is important.
In the second section, readers will learn what Italian designers and architects have managed to accomplish in Italy over the last half century, and what they have achieved in Russia over the last 500 years, how to prepare baby goat and farfalle (four recipes from chefs of Italian restaurants), how to make Buratino yourself (instructions from a professor of the Moscow Institute of Architecture) and which women from Italian movies you need to know personally.
Also in this issue:
Young designers and their ideas: a deer-shaped chair, a bicycle made from nuts and children's toys made from elements of furniture;
Eternal design from Ancient Rome – Yury Gordon talks of capital fonts and Roman print;
The apartment of William Sawaya of the Sawaya&Moroni firm on Moscow Street in Milane;
The Italian supercar culture – and interview with Dan Ross, founder and editor of Intersection magazine;
Where to study design in Italy;
A guide to Milan and a comic strip featuring Valentina Rosseli, an uninhibited resident of that city.