Harvard Business Review – Russia at Sochi InvestForum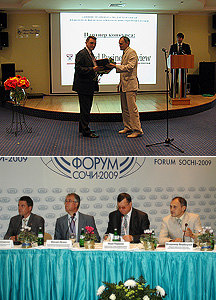 The awards ceremony for winners of the Sixth Open Joint-Stock Company Annual Reports Contest was held on September 18 as part of the Eighth International Investment Forum, Sochi-2009. The Krasnodar regional administration, the Russian Institute of Directors (RID) and the Federal Financial Markets Service organized the event.
In 2009, Harvard Business Review – Russia magazine acted as partner to the contest and established a special prize in cooperation with RID for the overall winner. This year that winner was the Novorossiysk Maritime Commercial Harbor. The special prize – a one-year subscription to the magazine – was given to the CEO of NMCH, Igor Vilinov.
A total of 79 companies took part in the contest, including Rusgidro, Aeroflot, Norilsk Nickel, Systema-Gals, Tatneft, Severo-Zapadny Telekom, OGK-6, Magnitogorsk Metallurgical Plant, Rosneft, FGC UES and others. The chief executives of participating companies attended the awards ceremony where they received complimentary gifts of the September issue of the magazine and a special digest of business cases assembled by Harvard Business Review.
The awards ceremony was conducted by Ivan Peronko (deputy chief of the Krasnodar regional administration), Mikhail Lvov (director of the regional branch of the Federal Financial Markets Service in the Prikubansky district), Gennady Margolit (deputy general director of MICEX), Vladimir Verbitsky (RID first deputy director) and Roman Kirindasov (Moscow branch chief of Doiche Berze AG).