Yes! Chose "The Face of yes.com.ru – 2009"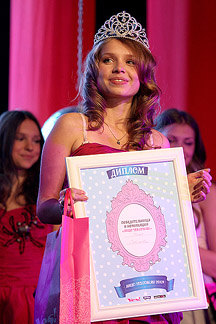 Yes! magazine chose "The Face of yes.com.ru – 2009." The winner will receive the main prize – a photo shoot for the cover of Yes!
The contest among visitors to the web site www.yes.com.ru was announced in March. Several thousands entrants submitted their applications during the contest. The site's users chose the winners of each round of the competition.
On October 1 at the Barkhat (Velvet) Club, 13 finalists from various cities and countries – Uralsk (Kazakhstan), Soligorsk (Belarus), Petrozavodsk, Nizhny Novgorod, Volzhsk (Russia) and others – appeared before guests and jury members, including Yes! magazine Editor-in-Chief Irina Ilina, designer Kira Plastinina, Comedy Club cast members Zurab Matua and Andrei Averin and others.
Before receiving their long-awaited prizes, each young lady had to pass a number of tests: record a video greeting, make a creative T-shirt, stride along the catwalk and answer tricky questions posed by the emcee, television host Pavel Vinogradov (Uboinoi Nochi [Slaughter Nights] on TNT television.)
Friends, relatives, magazine readers and even show business celebrities turned out to support the girls that evening. Among them were DJ Leonid Rudenko, Roma Kenga, Nyusha, Dino MC 47, ST, Alexei Vorobyov, Marina Lizorkina (ex-member of the Serebro [Silver] group), Dakota, Elektra, and music groups Barkhat and Yes.No.Maybe. Designer Kira Plastinina was also on hand to support the finalists. Manning the music console and creating the holiday atmosphere was DJ Fenix.
According to the results of the various contests, the prizes and awards were distributed as follows:
Miss TV became co-host with Iraklia Pirtskhalavy on the News program of Russian Music Box;
Miss Disco won six-months of free modern dance instruction at the Model-357 dance studio;
Miss Star received a lavender 8 GB iPod nano and a certificate good for downloading 3,000 rubles of music – both from Muz.ru;
The Miss Smile was given to a pair of identical twin sisters competing as the 8th contestants in the line-up, and they were given tickets to the Comedy Woman party;
Miss Model will sign a contract with the IQ Models modeling agency;
Miss Fashion and Miss Beauty will be pictured in the corresponding columns in Yes! magazine;
Miss Hand Made amazed everyone with her breathtaking T-shirt tunic and received a pink iPod nano;
Miss Creative won a 7,000 ruble gift certificate to Kira Plastinina stores;
Miss Nivea received a one year's supply of Nivea Visage Young cosmetics;
The Viewer's Award chosen by www.yes.com.ru users received a gift certificate to Mascotte stores;
The main prize – a photo shoot for the Yes! magazine cover – went to 16-year-old Masha Savelyeva of Petrozavodsk who won the jury over with her charm and spontaneity.
All of the young ladies received complimentary gifts from Yes!, Nivea Visage Young and the Muz.ru Internet portal. Event guests were not forgotten either: a special lottery with prizes was conducted for them.
Television station Music Box TV acted as informational partner to the event.