Harvard Business Review – Russia Intellectual Club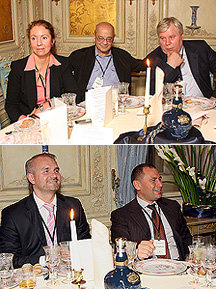 The fourth meeting of the Harvard Business Review – Russia intellectual club was held at the Royal Salute on October 6.
Guests included Nikolai Pryanshikov (Microsoft Rus), Sergei Nedoroslev (Kaskol), Boris Nuraliyev (1C), Olga Dergunova (VTB), Vladimir Preobrazhensky (SUEK), Dmitry Zimin (founder of Vimpelkom), Mikhail Shamolin (MTS), Anna Belova (SUEK), Mikhail Krasnov (Verysell), Andrei Sviridenko (Spirit), Boris Shcherbakov (Oracle) and many other famous members of the business community.
The evening began with a welcome cocktail during which guests could touch base and discuss the latest news. A current topic – how to make the Russian economy competitive – was chosen as the theme for the group's discussion. The club's guest speaker was Sergei Guriyev, rector of the New Economic School and author of the book Myths of the Economy: Fallacies and Stereotypes Spread by the Media and Politicians.