The Moscow Times Presents "Russia-Finland" Insert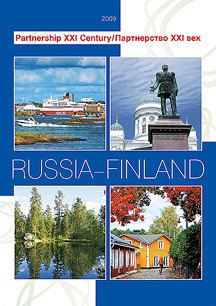 The new color and bilingual "Russia-Finland" insert to The Moscow Times newspaper was introduced on October 29. The business publication is dedicated to cooperation on business and tourism between the two countries and was created in partnership with the Finnish Embassy and the Visit Finland trade mission.
The insert opens with an interview with Finnish Ambassador to Russia Matti Anttonen dedicated to current political and economic questions concerning Russian-Finnish relations. On one hand, those relations have changed greatly in recent years, and on the other, they have a particular character that has developed over a long history dating back to the time when Finland was part of the enormous Russian Empire.
The tourism section is devoted to the new opportunities Finland is opening up to Russian guests. The focus is on the capital of Helsinki and the ancient city of Porvoo. In addition to the traditional winter tours, Finland offers a wide array of opportunities for travel and recreation – historical places of interest, shopping and a variety of spa programs with quality services that can compete on a par with the leading resorts of the world. The magazine's journalists prepared a review of the most interesting routes and give practical recommendations for those who choose Finland as their next vacation destination.
The Business section includes articles on key joint business projects between Russia and Finland:
an overview of collaboration between Russian and Finnish companies in the manufacturing and construction sectors, and information on Finnish companies planning to expand their activity in Russia;
a special report on the development of high technology in the ecological sphere and projects by leading Finnish companies providing assistance to Russian businesses in that field;
coverage of the transportation infrastructure, an area that will undergo a major change in 2010 in connection with the planned construction of a high-speed railway line between St. Petersburg and Helsinki, as well as other major transportation projects.
The insert closes with the traditional Vox Pop section that includes candid commentary by Finnish businesspeople about the peculiarities of living and doing business in Russia.
The insert will be distributed in Moscow and St. Petersburg along with The Moscow Times, Vedomosti, The St. Petersburg Times and Vedomosti St. Petersburg. Special campaigns for distributing the insert will be conducted in Finnair offices as well as the recently opened Finland House in St. Petersburg.