Harvard Business Review – Russia in November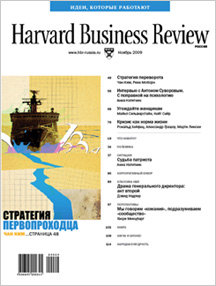 The new issue of Harvard Business Review – Russia has been released. In the November issue readers will find the following:
"When we say 'company,' we mean 'society'" – an article about how the current economic crisis gave rise to a large-scale crisis, how it developed, its consequences and what steps must be taken to end it.
In the article, "The drama of the general director: act two," the author describes various strategies for behavior by the most outstanding members of the world business community and gives recommendations on how to name the right candidate to the highest post.
Blue Ocean Strategy creators W. Chan Kim and Renée Maubourgne explain how corporate strategies are developed from the initial stages. They hold that a company's prosperity is not necessarily defined by its competitive environment and explain why the ideas and actions of individual market players can change or rearrange the economic landscape.
Also in this issue:
"Crisis as a Normal Way of Life": what awaits company heads after the crisis ends;
"Pleasing Women": why it is way past time for businesses to take aim at this segment of the consumer market;
"The Fate of the Patriot": experts comment on how to sell the new, unique nanocomposite material in Russia in such a way that the invention will not be stolen.