The Moscow Times Invites Readers to Museion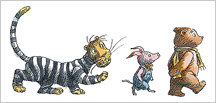 The Moscow Times invites children and their parents to an exhibition of book illustrations by renowned illustrator Boris Arkadievich Diodorov. The exhibition opened on November 5 at the Museion Center for the Aesthetic Education of Children and Youth in the Pushkin Museum of Fine Arts.
The exhibition includes illustrations for such Russian fairy tales as The Little Scarlet Flower by Sergei Askakov, Folk Tales by Lev Tolstoy, Prose Poems by Ivan Turgenev, as well as The Snow Queen, The Little Mermaid and Thumbelina by Hans Christian Andersen, The Wonderful Adventures of Nils by Selma Langerlöf, Karlsson-on-the-Roof by Astrid Lindgren, Mary Poppins by P.L. Travers, Winnie-the-Pooh by A.A. Milne and The Adventures of Chipolino by Gianni Rodari.
The exhibition runs from November 5 through December 20, and will be open Tuesdays through Fridays from 11 a.m. until 6 p.m., and on Saturdays and Sunday from 11 a.m. until 4 p.m. Admission is free.