Men's Health at Ski & Board Salon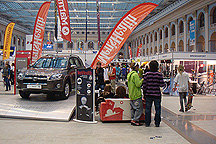 Men's Health took part in the 16th Ski & Board Salon held from October 30 to November 1 at Gostiniy Dvor. The magazine displayed a new Toyota RAV4 – the main prize of the PRO-Motion contest (pro.mhealth.ru) that continues through November 30, 2009.
The salon also included the opening of the Moscow Cup 2009 Big Air indoor championship, which featured athletes from both winter and summer forms of extreme sports took part in the competition. For the contest, a unique two-level ramp was built with two platforms – one 17-meter-high starting platform for those competing on snowboards and in new school skiing, and an eight-meter-high platform for "wheeled" sports such as BMX, MTB, mountain boarding and skating. After flying off of the ramps, the athletes landed on a huge inflatable "pillow" that provided safety and allowed them to perform even more amazing stunts.
Despite the open status of the competition and the desire of the organizers to forego inviting riders with official rankings, the contest enjoyed the active participation of the "extreme" community. New faces were also numbered among the participants – non-professional riders performing at a very high level. The event was unique for the unusual format of the competition, as well as for the variety of disciplines represented.
The organizers of the Ski & Board Salon made use of the entire floor space of the Gostiniy Dvor amphitheater, capable of seating 3,000 to 4,000 spectators. Famous DJs provided accompaniment for the competition and the most interesting stunts were shown on a large screen. The Men's Health booth was right next to the ski ramp and was very popular with the guests as well as the participants of the competition.