Seasons Magazine Hosts Music Lesson at School for Fools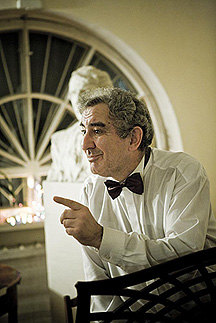 The Seasons magazine School for fools held a very unusual music lesson. It was led by Mikhail Kazinik, Nobel Prize committee music specialist and outstanding violinist who hosts his own programs on radio stations Serebryany Dozhd (Silver Rain) and Orfei (Orpheus).
Mikhail Kazinik is an incredible guide to the world of classical music. Kazinik agreed to conduct lesson at the School for fools while he is in Moscow for a series of concerts and to record new programs.
During the lesson, Mikhail Kazinik told stories, read poems, played the piano and violin and taught his students how to listen to Bach and Beethoven – and how to hear themselves in the process. "It is not important what is inside you," he said. "But what is between you and the cosmos, between you and Beethoven – that is what's important. Those energy bridges with Pasternak, with Mozart, with Bach – those are important," said Kazinik. The students of the School for fools sat in rapt attention throughout his discourse.