National Geographic Traveler: 10 Best New Year's Trips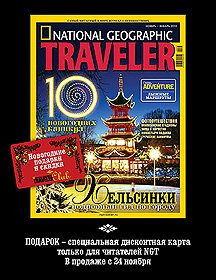 During the run-up to the holiday, National Geographic Traveler brings readers the 10 best trips for the New Year. The magazine's reporters explain how to spend the holiday in an unusual place, how much it will cost and the best way to get there – and specifically, how to dance the salsa in Cuba, go downhill skiing in Romania's Carpathian Mountains, drink champagne in the ruins of a Norman amphitheater or dive from a ship into a herd of dolphins off Zanzibar. All of this is found in special material on the best destinations for the New Year.
Also in this issue:
Helsinki as described by its own citizens. A new guide offers readers the most unexpected routes and explains how to feel at home in Helsinki. Also, how to catch a concert at a church in the cliffs, how to ride a ferry boat in another country and how to walk about Suomenlinna Island.
Strategy: how to bring home great photos from a trip – how to choose the right lenses, what to bring with you and other secrets from travel photographers.
Travel Guide: India. An NGT correspondent visits India's Lakakh region in search of the true Shambhala. Along the way he meets a Ukrainian prophet, trades hats with a local gardener and watches a dance of demons.
National Geographic Adventure: The New Year is a great time to go skiing, and to ski your way to a fascinating journey. An NGT correspondent followed the route of Alexander Suvorov's famous army expedition through the mountains. In addition, readers will find information on unique skiing trips in Russia, Europe and South America.
The magazine will go on sale beginning November 24.