Yes! Behind the Counter at McDonald's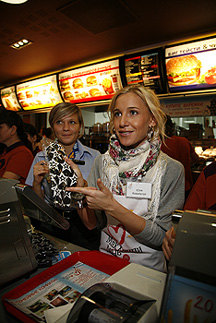 The eighth annual McHappy Day was held on November 20, with McDonald's restaurants participating in all 23 Russian cities where they have opened. According to the tradition established by the McDonald's company and the Ronald McDonald House charitable foundation, performers, television hosts, athletes, politicians and other famous public figures joined together to support the campaign and to help children. They worked the McDonald's cash registers to sell the company's products – with the day's proceeds going to social programs.
This year, the proceeds will go toward developing the "Family Rooms" project in Russian hospitals so that children undergoing extended treatment will not be separated from their parents.
Among the celebrities who enthusiastically responded to the offer to help children by working at Moscow McDonald's restaurants were Vlad Topalov, Tatiana Ustinova, Maria Butyrskaya, Yana Batyrshina, Edgard Zapashnyi, Ksenia Borodina, Sogdiana, Lera Kudryavtseva, Alla Dovlatova, Irena Ponaroshku, Yekaterina Gordon, Vladimir Tishko, Mark Tishman, Reflex, Diskoteka Avaria, Blestyashchiye and many others. Yes! magazine editor Yulia Prudko was an honored guest of the campaign. A whole line of people waited at her cash register to buy French fries and get her autograph. Max Danilov, the person responsible for McHappy Day and a participant for several years running, never tired of repeating, "Even the editor of such a popular magazine as Yes! found time to take part in the event."
Per tradition, McHappy Day – 2009 generated a friendly and good-natured atmosphere: after all, participants on both sides of the counter were united by one lofty goal – to help children.
Fully 154,360 pairs of mittens designed by designer Masha Tsigal have been sold at all Russian McDonald's restaurants since November 10 and 254,524 "palm" stickers were sold on November 20 alone. As many as 17,000 people visited the McDonald's on Pushkin Square, where 60 celebrities worked. To date, the campaign has raised more than 9.5 million rubles ($330,000).
Customers had a chance to receive celebrity autographs and issues of Yes! magazine along.